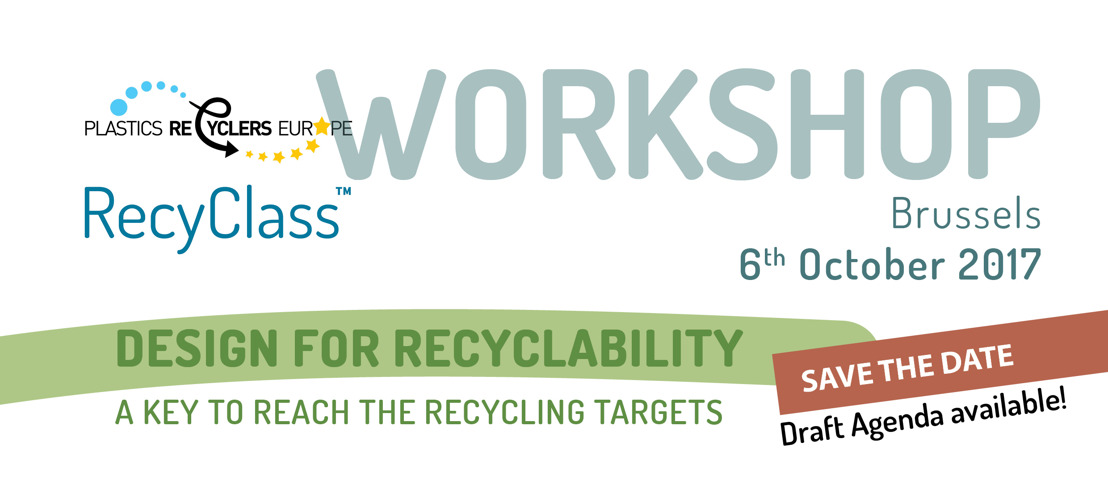 INVITATION: Design for Recyclability Workshop - 6 Oct. 2017
Learn & contribute to the current recycling challenges faced by the industry
Thursday, June 29, 2017 — Plastics Recyclers Europe, invites you to the Workshop Design for Recyclability - A key to reach the recycling targets on 6 October at the Vleva Conference Centre in Brussels.
Design plays an important role when recycling a package. Plastic packaging does not begin with collection but design. Careless design often leads to leftover residue in emptied packages. Ill-prepared combinations of polymers and materials in packaging can create incompatibilities with efficient recycling processes.
Who should join?
Brand owners
Plastic packaging designers
Recyclers
Stakeholders
During the workshop, participants will gain an insight on the impact of packaging design on recyclability. Other topics such as collection, sorting & different recycling processes will be discussed within the breakout sessions.
DATE & VENUE

6th October 2017 | 10:00h - 15:00h

Vleva Conference Centre

Avenue de Cortenbergh 71

1000 Brussels
REGISTRATION

Places are limited and an online registration will be necessary in order to participate. Further information will follow in due course.
About Plastics Recyclers Europe
PRE is the professional representative body of plastics recyclers in Europe. PRE promotes plastics mechanical recycling and conditions that enable profitable and sustainable business, while offering a service platform to its members. Our members constitute 80% of the European recycling capacity, processing more than 3 million tonnes of collected plastics per year.
About RecyClass
RecyClass is an online tool for ranking the recyclability of a plastic package. It can also work as a marketing tool since it is able to certify packages with regards to their recyclability. RecyClass has been developed and it is maintained on the basis of plastics recyclers expertise's from practice. The aim of RecyClass is to help packaging designers to find the correct way to approach and evaluate their new products with respect to recyclability.