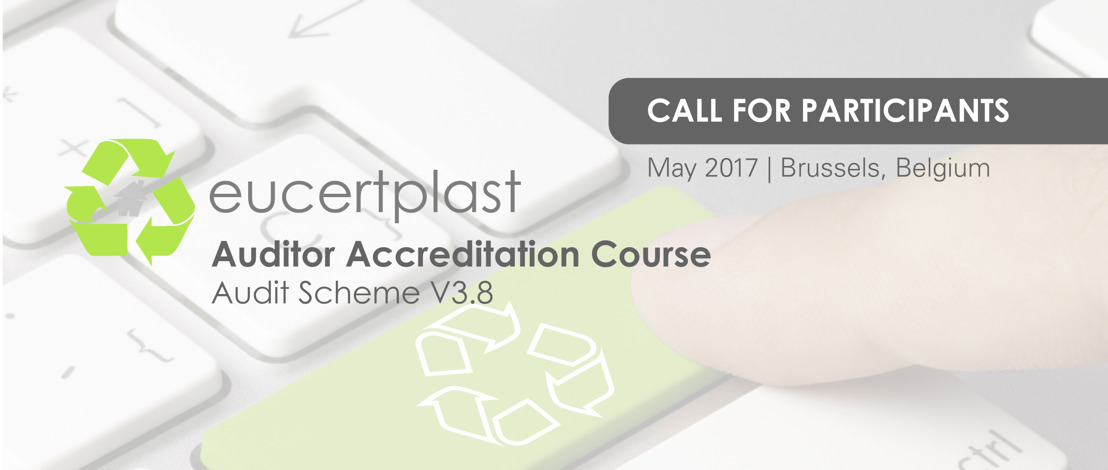 EuCertPlast Accreditation Course: Audit Scheme V3.8
New Auditors Training & Examination session!
Tuesday, March 7, 2017 — EuCertPlast is pleased to extend an open invitation to participate in the next auditor's training session that will take place in Brussels, Belgium. The date of this 2-days event is scheduled for May 2017. A doodle link is included in this email to select your preferred dates according to your availability. After receiving all the responses, final dates for the training will be announced. Here below you can find a draft agenda of the training.
The cost of the training is 1.300 EUR per participant* (transportation, accommodation and taxes excluded).
How to participate:
Be sure that you fulfill all the requirements (see the enclosed document)
Select your preferred dates in the doodle form
Send an email to info@eucertplast.eu expressing your interest
What is EuCertPlast?
EuCertPlast is certification aimed at post-consumer plastics recyclers. The goal of the certification system is to recognize plastic recyclers operating to high standards. The certification gives confidence to suppliers that any input waste plastic they deliver to a certified recycler will be recycled according to the highest standards with respect to environment protection and national legislation.
The certification works according to the European Standard EN 15343:2007 and aims at encouraging an environmentally friendly recycling of plastics by standardizing it, particularly focusing on the process for traceability and assessment of conformity and recycled content of recycled plastics.
Why becoming a certified auditor?
Be a part of a network of almost 40 certified auditors around Europe.
Carry out audits of any post-consumer recycling facility under their request within the programme.
*Please note that a minimum of 5 participants is required for the training to take place. EuCertPlast reserves the right to either cancel or postpone the training in this case.
For further information visit our website.